How do I know if I'm in the right relationship or not?
What do you think a "right relationship" should provide for the people in it?
Although the answer here is obviously subjective, in all relationships, romantic and platonic alike, there are some clear signs that things are going well.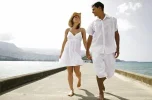 You can read the full article here
http://www.marcandangel.com/2014/02/12/9-good-signs-youre-in-the-right-relationship/